16.08.2016 | Original Article | Ausgabe 2/2017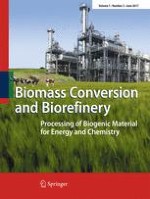 Bioethanol production from
Eucalyptus grandis

hemicellulose recovered before kraft pulping using an integrated biorefinery concept
Zeitschrift:
Autoren:

Mairan D. Guigou, Florencia Cebreiros, María N. Cabrera, Mario D. Ferrari, Claudia Lareo
Abstract
Pre-extraction of hemicelluloses prior to pulping and its conversion to other by-products can provide additional profits to traditional pulp and paper industry. In this study, hemicelluloses removed from
Eucalyptus grandis
with green liquor (2 %) at 155–160 °C for 150 min prior to kraft pulping were fermented by
Scheffersomyces stipitis
NBRC 10063 to produce bioethanol. These conditions were selected to obtain an extract rich in xylose without changing the quality of pulp produced: best xylose extraction yield and minor pulp viscosity degradation. Fermentation of hemicellulose hydrolysate containing 7.5 g/L xylose and 5.0 g/L acetic acid presented an ethanol yield of 0.19 g/g and sugar conversion of 89 %. However, the fermentation of hydrolyzates after concentration proved to be difficult or even impossible. Ethyl acetate extraction, used for removal of inhibitory compounds in concentrated hydrolyzates containing 19 g/L xylose, improved fermentability (final ethanol concentration of 5.0 g/L, ethanol yield of 0.21 g/g and 94 % sugar conversion, ethanol production of 4.4 L
ethanol
/t of dry wood) and made possible the recovery of a valuable product as acetic acid.