01.08.2014 | Original Article | Ausgabe 3/2014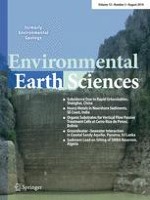 Biofilms on the surface of gravels and aquatic plants in rivers and lakes with reusing reclaimed water
Zeitschrift:
Autoren:

Wang Tianzhi, Li Yunkai, Liang Mingchao, Yang Peiling, Bai Zhihui
Abstract
Reuse of reclaimed water for the eco-environmental water has become an effective measure to resolve the urban water crisis. However, it still contains large amounts of contaminants which may significantly affect the aquatic ecosystems. Biofilm attached on the surface of multiple matrixes in rivers and lakes is one of the indicators for describing the health of aquatic ecosystem. In this article, we chose eight rivers and lakes as the sampling locations, including three kinds of reclaimed water with different treatment processes and natural water. The morphology, structure and component characteristics of biofilms attached on the surface of aquatic plants and gravels in eight water bodies were evaluated. The results showed that the biofilm on the matrix surface were typical porous media with basic skeleton composed of inorganic particles, microorganisms and algae. The pores were filled with the viscous extracellular polymeric substances (EPS) secreted by microorganisms. The biofilms contained calcite, quartz, illite, alkali feldspar, dolomite, clinochlore, goethite and inorganic salt, and approximately 50 % of these compositions are calcite and quartz. The concentration of EPS was 20.78–500.44 μg/mL, and that of the gravel biofilms was less than that in aquatic plants by 18.1–75.3 %. In these three reclaimed waters, 4–7 kinds of PLFA (phospholipid fatty acid) were detected in aquatic plants biofilms, more than one or two kinds than in gravel biofilms. And the dominant PLFA were i15:0 and 18:0, the total contents of which were, respectively, 74.4, 62.9 and 85.9 % in the three kinds of reclaimed water. All biofilm samples contain major microorganisms such as
Pseudomonas
,
Acinetobacter
and
Comamonas
. This study is aimed to provide some support for assessing the health of river–lake ecosystem with biofilm indicator.