2020 | OriginalPaper | Buchkapitel
5. Biogas: An Effective and Common Energy Tool – Part III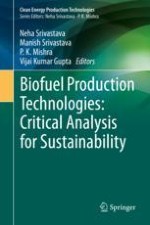 Erstes Kapitel lesen
Autoren: Sheelendra Mangal Bhatt, Shilpa Bhat
Verlag: Springer Singapore
Abstract
Biogas is one of the best future alternatives against depleting fossil fuel. Current Indian production of biogas is very low. There are many challenges for BioCNG production which is suitable for vehicle use but needs to adapt various technologies to enhance the content of biomethane.
Therefore, in current article, technological improvement in Biogas production intended for high production has been discussed in detail.
For use in vehicle, enhanced methane is required. Current article had focused on concise presentation of accumulated knowledge in current past. Bio-CNG can be produced from various biomass biowaste, kitchen waste, algae, and other biowastes which may be a very good option for Bio-CNG production. We have discussed socioeconomic challenges, suitable sources, barrier in production of biogas, and biochemical steps in production of biogas in normal verses reactor conditions, and also application of nanotechnology for green energy applications have been discussed.