2011 | OriginalPaper | Buchkapitel
14. Biogenic Impact on Materials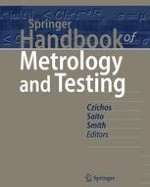 Erstes Kapitel lesen
Autoren: Dr. Ina Stephan, Peter D. Askew, Anna A. Gorbushina, Dipl. Manfred Grinda, Ph.D. Horst Hertel, Prof. Wolfgang E. Krumbein, Dr. Rolf-Joachim Müller, Dipl. Michael Pantke, Rüdiger (Rudy) Plarre, Prof. Guenter Schmitt, Dr. Karin Schwibbert
Verlag: Springer Berlin Heidelberg
Abstract
Materials as constituents of products or components of technical systems rarely exist in isolation and many must cope with exposure in the natural world. This chapter describes methods that simulate how a material is influenced through contact with living systems such as microorganisms and arthropods. Both unwanted and desirable interactions are considered. This biogenic impact on materials is intimately associated with the environment to which the material is exposed (Materials-Environment Interaction, Chap. 15). Factors such as moisture, temperature and availability of food sources all have a significant influence on biological systems. Corrosion (Chap. 12) and wear (Chap. 13) can also be induced or enhanced in the presence of microorganisms. Section
14.1
introduces the categories between desired (biodegradation) and undesired (biodeterioration) biological effects on materials. It also introduces the role of biocides for the protection of materials. Section
14.2
describes the testing of wood as a building material especially against microorganisms and insects. Section
14.3
characterizes the test methodologies for two other groups of organic materials, namely polymers (Sect.
14.3.1
) and paper and textiles (Sect.
14.3.2
). Section
14.4
deals with the susceptibility of inorganic materials such as metals (Sect.
14.4.1
), concrete (Sect.
14.4.2
) and ceramics (Sect.
14.4.3
) to biogenic impact. Section
14.5
treats the testing methodology concerned with the performance of coatings and coating materials. In many of these tests specific strains of organisms are employed. It is vital that these strains retain their ability to utilize/attack the substrate from which they were isolated, even when kept for many years in the laboratory. Section
14.6
therefore considers the importance of maintaining robust and representative test organisms that are as capable of utilizing a substrate as their counterparts in nature such that realistic predictions of performance can be made.