01.01.2014 | Original Paper | Ausgabe 1/2014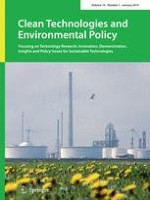 Biohydrogen production from agroindustrial wastes via
Clostridium saccharoperbutylacetonicum

N1-4 (ATCC 13564)
Zeitschrift:
Autoren:

Najeeb Kaid Nasser Al-Shorgani, El-Mubarak Tibin, Ehsan Ali, Aidil Abdul Hamid, Wan Mohtar Wan Yusoff, Mohd Sahaid Kalil
Abstract
The anaerobic production of biohydrogen from different pretreated agroindustrial wastes, including rice bran (RB), de-oiled RB (DRB), sago starch (SS), and palm oil mill effluent (POME) via
Clostridium saccharoperbutylacetonicum
N1-4 was investigated in a batch culture system at 30 °C and a pH of 6.2. A yield of 7627, 6995, and 6,363 mL H
2
/L was obtained from H
2
SO
4
(1 %)-treated DRB (10 %), enzymatically hydrolyzed DRB (10 %) and HCl (1 %)-treated DRB (10 %), respectively; however, untreated DRB (10 %) was able to produce only 3,286 mL H
2
/L. A strategic treatment of RB (10 %) with HCl (1 %) followed by enzymatic hydrolysis could produce 3,172 mL H
2
/L. An enzymatically hydrolyzed mixture of each POME and SS (5 %) produced 3,474 mL H
2
/L, and a remarkable enhancement of H
2
production (7,020 mL H
2
/L) was achieved when the same mixture was subjected to XAD-4 resin treatment. In contrast, the enzymatically hydrolyzed SS (5 %) could produce only 4,628 mL H
2
/L. Conclusively, it can be stated that agricultural wastes have a potential as substrates for biohydrogen production and that pretreatment with
C. saccharoperbutylacetonicum
N1-4 can contribute positively to enhancing the production.