02.07.2015 | ORIGINAL ARTICLE | Ausgabe 1/2017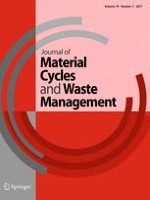 Bioleaching of copper from metal concentrates of waste printed circuit boards by a newly isolated
Acidithiobacillus ferrooxidans

strain Z1
Zeitschrift:
Autoren:

Chong Yang, Nengwu Zhu, Weihang Shen, Ting Zhang, Pingxiao Wu
Abstract
The goal of this study is to determine the potential of
Acidithiobacillus ferrooxidans
strain Z1 in bioleaching of metal concentrates of waste printed circuit boards (PCBs). The influences of initial pH, initial Fe(II) concentration, metal concentrates dosage, inoculation quantity and particle size on the bioleaching process were investigated and optimum conditions were determined. The results showed that 92.57 % copper leaching efficiency was achieved within 78 h in a two-step process, and 85.24 % aluminum and 95.18 % zinc were leached out after 183 h under the optimum conditions of initial pH 2.25, initial Fe(II) 9 g/L, metal concentrates dosage 12 g/L, inoculation quantity 10 % and particle size 0.178–0.250 mm. It demonstrated that metals could be efficiently leached from metal concentrates by
Acidithiobacillus ferrooxidans
Z1 and the bioleaching period was reduced 81–78 h. Therefore, the strain
Acidithiobacillus ferrooxidans
Z1 could be suggested as a potential strain to bioleach metals from metal concentrates of waste PCBs.