04.11.2017 | ORIGINAL ARTICLE | Ausgabe 2/2018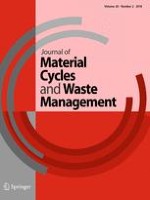 Bioleaching of heavy metals from sewage sludge, direct action of
Acidithiobacillus ferrooxidans

or only the impact of pH?
Zeitschrift:
Autoren:

Akbar Ghavidel, Sumayyah Naji Rad, Hosein Ali Alikhani, Meraj Sharari, Alireza Ghanbari
Abstract
The bioleaching process comprises two mechanisms: direct action of the bacteria and indirect effect of low pH. In this work, the effect of bacteria and the effect of low pH on dissolution of the metals were compared. To study these two mechanisms, bioleaching and the chemical treatment were operated simultaneously at the same pH. Results showed that the effect of bacteria played the main role in dissolution of metals, and regarding metal dissolution, there was a significant difference between these two effects. Although the chemical leaching by means of low pH could dissolve metals, the metals are dissolved mainly by the function of the bacteria rather than dissolution because of low pH. Bioleaching could dissolve Cd (71.90%), Mn (92.5%) and Zn (89.14%), whereas the chemical leaching could dissolve Cd (22.03%), Mn (25.06%) and Zn (14.23%). These results indicate that the main cause of metal dissolution during the bioleaching treatment is the unique impact of bacterial activity, which changes the redox state of the metal rendering them to a more soluble form.