01.02.2011 | Ausgabe 1/2011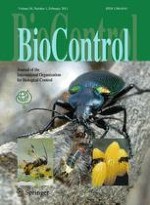 Biological control of the pinewood nematode
Bursaphelenchus xylophilus

by application of the endoparasitic fungus

Esteya vermicola
Zeitschrift:
Autoren:

Chun Yan Wang, Zhe Ming Fang, Zhen Wang, Dong Liang Zhang, Li Juan Gu, Mi Ra Lee, Lei Liu, Chang Keun Sung
Wichtige Hinweise
Handling Editor: Ralf Ehlers.
Abstract
Esteya vermicola
(Ophiostomataceae) is the first reported endoparasitic fungus of the pinewood nematode (PWN),
Bursaphelenchus xylophilus
(Nematoda: Aphelenchoidoidea). It has high in vitro infectivity. In this study, the nematocidal effect of
E. vermicola
in logs was investigated and evaluated. Two months after inoculation of pine wilt-killed
Pinus densiflora
logs with
E
.
vermicola
conidia suspensions of 3 × 10
8
and 3 × 10
6
ml
−1
, the density of nematodes decreased by approximately 79% and 47%, respectively. When the fungus was sprayed on to four-year-old pine seedlings one month before PWN inoculation, the survival index of seedlings reached 0.67 compared with only 0.067 for control seedlings without fungal spraying. These results suggest that conidia spraying of
E
.
vermicola
can, to some extent, protect pine trees from wilt disease. Moreover, infected nematodes and hyphae of
E
.
vermicola
were observed in the treated wood sections.