14.01.2019 | Original Article | Ausgabe 1/2019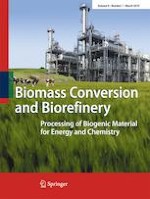 Biological effects of particulate matter emissions from residential pellet boilers in bacterial assays: influence of an electrostatic precipitation
Zeitschrift:
Autoren:

Anna-Lena Schulze, Daniel Büchner, Volker Klix, Volker Lenz, Martin Kaltschmitt
Wichtige Hinweise
Highlights
- The cytotoxic potential of particulate matter (PM) emissions of an investigated pellet boiler seems to be higher if samples were taken downstream an electrostatic precipitator under full-load conditions.
- The genotoxicity of the particulate matter emission within the flue gas was significantly reduced by the precipitator during full-load operation but increased during partial load.
Publisher's note
Springer Nature remains neutral with regard to jurisdictional claims in published maps and institutional affiliations.
Abstract
Many studies showed that there are associations between particulate matter (PM) emissions and negative health effects. Sources for particulate matter PM emissions are, in addition to industry and traffic, residential wood combustion. Such PM emissions consist typically of non-combustible impurities contained naturally within the wood fuels (e.g., ash). Additionally, heavy metals from the wood fuel and/or polycyclic aromatic hydrocarbons (PAHs) formed during incomplete combustions may condense on the surface of these particulate matter and may increase the toxicity of these particles. To reduce negative health effects, wood combustion appliances are forced to emit less PM emissions. This may lead to an increased use of electrostatic precipitators to meet the valid threshold values. Against this background, the overall goal of this paper is it to compare biological effects of PM emissions released under full- and partial-load conditions of a wood pellet boiler with and without a flue gas treatment with an electrostatic precipitator in bacterial assays. The results show that PM emissions emitted under full-load conditions show a lower cytotoxic potential than those collected under partial load. No difference for the genotoxicity between full-load and partial-load conditions could be identified. However, significantly lower genotoxicity during full-load operation and precipitation but higher genotoxicity during partial load and precipitation have been found. Conclusively, the results indicate that the PM emissions emitted under full-load conditions show overall less cytotoxicity and genotoxicity than the emissions from partial-load operation. The PAH concentration doubles between full load and partial load with separator and quadruples between full load and partial load without precipitator.