01.08.2014 | Research Paper | Ausgabe 8/2014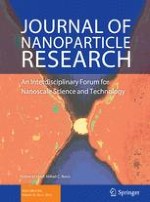 Biomaterial properties evaluation of poly(vinyl acetate-
alt

-maleic anhydride)/chitosan nanocapsules
Zeitschrift:
Autoren:

Delia Mihaela Raţă, Marcel Popa, Jean-François Chailan, Carmen Lăcrămioara Zamfir, Cătălina Anişoara Peptu
Abstract
Nanocapsules with diameter around 100 nm based on a natural polymer (chitosan) and a synthetic polymer poly(vinyl acetate-
alt
-maleic anhydride) [poly(MAVA)] by interfacial condensation method were prepared. The present study proposes a new type of biocompatible nanocapsules based on poly(vinyl acetate-
alt
-maleic anhydride-chitosan) (MCS) able to become a reliable support for inclusion and release of drugs. The spherical shape of the nanocapsules was evidenced by scanning electron microscopy. Nanocapsules presented a good Norfloxacin loading and release capacity. Haemocompatibility tests have demonstrated that the nanocapsules present a low toxicity and a good compatibility with sanguine medium. The biocompatibility properties of the nanocapsules after their intraperitoneal administration in rats were evidenced by histopathological examination of different organs (brain, liver, kidney, and lung). The results are encouraging and the nanocapsules can be used as controlled drug delivery systems.