2018 | OriginalPaper | Buchkapitel
13. Biophysical Limits and Sustainable Management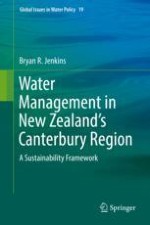 Erstes Kapitel lesen
Autor: Bryan R. Jenkins
Verlag: Springer Netherlands
Abstract
Adoption of collaborative governance has broadened strategic thinking in Canterbury from increased water availability through storage on alpine rivers, to sustainable management of water for multiple uses of importance to the community. Furthermore, improved water use efficiency was found to be a more effective way of increasing water availability. Water availability matters still to be resolved include: adaptation to climate change, institutional arrangements for infrastructure provision, and, measurement and management for enhanced water use efficiency.
Failure pathway analysis highlighted effects of water abstraction on river flows and groundwater levels, as well as effects of land use intensification on freshwater quality on nutrient, bacterial and sediment contamination. Nested adaptive system analysis found current levels of management interventions are insufficient to achieve sustainable outcomes. Also, greater attention is needed to the interactions between surface and groundwater for managing water quantity and quality issues.
Climate change projections indicate higher temperatures increasing potential evapotranspiration rates thereby increasing irrigation demand. Also, water availability in irrigation seasons is expected to decline from reduced winter rainfall to recharge aquifers and maintain lowland streamflow, lower foothill river flow, and changing flow patterns in alpine rivers from reduced snowmelt and increased winter rainfall. Higher winter flows in alpine rivers could be used to recharge aquifers.
Use of a nested approach for the region has demonstrated that at finer spatial scales there are differences in community priorities, differences in failure pathways, and differences in sustainability strategies . Introducing resilience assessments, sustainability strategies and managing cumulative effects places a greater reliance on modelling and monitoring . Management of extremes of droughts and floods requires managing the consequences of failure rather than for specific return-period events.
The RMA focuses on defining environmental bottom lines, however, experience with managing-to-limits indicates challenges with numerical uncertainties, model inaccuracies, natural variability , multiple variables, enforcement difficulties, contributions from legacy issues, lag times in effects, cause-effect attribution, and the range of possible management interventions . While limits are useful, managing based on nested adaptive cycles and integrating actions at individual, tributary and catchment scales are needed to achieve sustainable outcomes.