2018 | OriginalPaper | Buchkapitel
7. Biophysical System Failure Pathways at the Regional Scale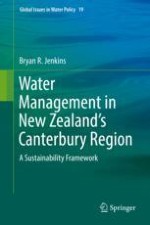 Erstes Kapitel lesen
Autor: Bryan R. Jenkins
Verlag: Springer Netherlands
Abstract
This chapter addresses water management failure pathways of climate change, and, the natural hazards of drought and floods. In terms of greenhouse gas emissions, the use of water for hydro-electric generation reduces New Zealand's greenhouse gas emissions from energy compared to other developed countries. However, agriculture is the largest source producing 47.2% of total emissions, primarily from methane and nitrous oxide contributions. In addition, further forest clearance mainly for dairying is reducing greenhouse sinks.
Projected changes in climate have significant implications for water availability in Canterbury. Increased temperature increases the potential evapotranspiration deficit and therefore irrigation demand. Reduced winter rainfall on the Canterbury Plains reduces groundwater recharge and hence reduces flows in lowland streams. Reduced winter rainfall in the foothills reduces flow in foothill rivers. Increased rain on the Southern Alps but reduced snow means that while annual flow increases in alpine rivers, the peak flows shift from spring and summer towards winter and the reliability of supply for the irrigation season declines.
New Zealand's response to climate change has been minimal with emissions continuing to increase. However, there are actions that could be taken through mitigation measures and offsets. Furthermore, better use could be made of economic instruments and environmental impact assessment procedures to manage emissions.
Drought can be defined in biophysical terms, i.e. meteorological and hydrological droughts but more relevant from a nested adaptive system perspective is the definition of agronomic drought because it focuses on damage from drought and can incorporate the socio-economic response. Drought adaptation responses are aligned with the sustainability approaches.
The case study of taking a resilience approach to management of the flood risk to Christchurch from the Waimakariri River is described. Rather than designing protection works for a flood of specific return period, the design incorporates the consequences of failure. A secondary stopbank system is provided to capture floodwaters if the primary system fails or is overtopped. The system also allows for return of floodwaters to the river. The international example of Hurricane Katrina and its flooding of New Orleans is also described. The inadequacies of the approach of designing just for a specific return period hazard has led the US Army Corps of Engineers to change to a comprehensive systems approach.