30.05.2016 | Original Paper | Ausgabe 13/2017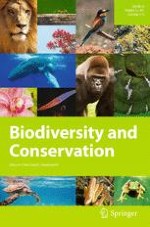 Bird community responses to afforested eucalyptus plantations in the Argentine pampas
Zeitschrift:
Autoren:

Colin C. Phifer, Jessie L. Knowlton, Christopher R. Webster, David J. Flaspohler, Julian A. Licata
Wichtige Hinweise
Communicated by Eckehard Brockerhoff, Hervé Jactel and Ian Thompson.
This is part of the special issue on 'Forest biodiversity and ecosystem services'.
Abstract
Land-use change driven by human population growth and economic activity will continue to impact both natural habitats and land currently being used for food, fiber, and fuel production. The effects of this conversion on economically important ecological services will in large part depend on how native biodiversity responds to these changes. We investigated how agriculture-related land use change influences the avian community in northeastern Argentina by examining common agricultural land uses (pasture/annual crops, young and mature large-scale eucalyptus plantations, mixed-use farms with citrus, blueberry and small stands of eucalyptus) and remnant native espinal savannas. In this region, afforested eucalyptus plantations represent a new land-use change from the land cover of pasture with intermixed annual crops that has dominated the region. In this mosaic, we used point counts to assess how avian diversity and community structure differed between land uses. Bird species richness was lowest in older plantations and highest in the espinal savanna, with the other land uses having intermediate richness. Abundance trends followed the same pattern, with low overall abundance in the plantations, intermediate levels for pasture/annual crops, and highest abundance in the espinal. Distinct bird community assemblages were strongly associated with each land use, and between young and mature eucalyptus stands. Birds can be useful indicators for biodiversity as a whole, and the depopulated and depauperate avian community within the eucalyptus plantations will likely lead to reduced provision of many ecosystem services in this region if the spatial extent of plantations continues to expand.