2017 | OriginalPaper | Buchkapitel
3. Bitumen-Stabilised Materials for Sustainable Road Infrastructure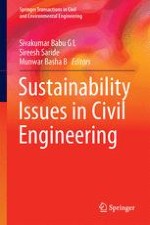 Erstes Kapitel lesen
Autoren: M. K. Nivedya, A. Veeraragavan
Verlag: Springer Singapore
Abstract
Cold in-place recycling (CIPR) consists of milling existing distressed pavement-layer materials to a predetermined depth and mixing it with foamed bitumen (FB) or emulsion along with virgin aggregates. The mixture of reclaimed asphalt pavement material, foamed binder, active filler and fresh aggregates is called as bitumen-stabilised material (BSM). The mix design, material characterisation and design of pavement structures with BSM are currently in the development stages world over.
One of the key questions to be answered while designing and constructing pavements with BSM mix is the characterisation of the BSM under all the ranges of temperature, confinement conditions and life. It is expected that BSM mix can show behaviour similar to that of a granular material or a bituminous material at different stages of compaction, active filler content and confinement conditions during the design life.
In this chapter, the factors affecting the foaming process are discussed. The characterisation of BSM mixes carried out by the researchers is explained. The evaluation of sections which were constructed using CIPR technology in India is also discussed, and the needed research is highlighted.