2019 | OriginalPaper | Buchkapitel
2. Blockchain and Internet of Things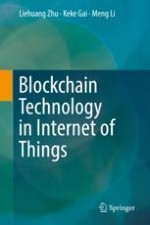 Erstes Kapitel lesen
Autoren: Liehuang Zhu, Keke Gai, Meng Li
Abstract
Bitcoin (Nakamoto, Bitcoin: A peer-to-peer electronic cash system [Online] (2009).
https://​bitcoin.​org/​bitcoin.​pdf
) has attracted extensive attentions from both academia and industry, which initiates a wave of cryptocurrency. It has been widely believed that Blockchain (Bonneau et al., SoK: Research Perspectives and Challenges for Bitcoin and Cryptocurrencies, in
Proc. IEEE Symposium on Security and Privacy (S&P)
(2015), pp. 104–121; Narayanan et al., Bitcoin and cryptocurrency technologies (2016), pp. 1–308.
http://​www.​freetechbooks.​com/​bitcoin-and-cryptocurrency-technologies-t938.​html
; Zhang et al., Int J Web Grid Serv 1–25, 2017; Dinh et al., IEEE Trans Knowl Data Eng 30(7):1366–1385, 2018) is the fundamental mechanism for running Bitcoin. Essentially speaking, blockchain technique used in Bitcoin is a public, distributed, and append-only ledger that is maintained and governed by a group of financially motivated miners who do not trust each other. In order to establish a trust environment, transactions (generated by users) are validated by miners and are recorded in a chain of blocks. Blocks are periodically created based on the consensus algorithms appended to the chain. This application formulates a few key characteristics of blockchain, such as distributed ledger storage, transparent operation, and tamper-resistant record.