2020 | OriginalPaper | Buchkapitel
10. Bold Leadership in Times of Crises: Inclusion, Fear, and Courage in Galatians 2:11–14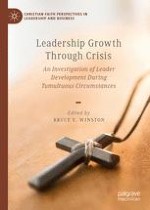 Erstes Kapitel lesen
Autor: Tom Morris
Abstract
According to the recent Gallup survey, the level of fear in American culture is at a 15-year high (Davis,
In U.S., Concern About Crime Climbs to 15-Year High
, 2016). Because of daily messages of terrorism, global warming, economic instability, threats of violence, and various diseases, some researchers have described contemporary culture as a culture of fear (Furedi, 2006). Fearful times call for fearless leadership. According to Diener (2012), courage allows individuals to defeat personal obstacles and seek an abundant life. Therefore, the need for courageous leaders who are able to stand up for what is ethical and true in the midst of crises of fear is needed now more than ever. The purpose of this chapter is to explore the areas of inclusion, fear, and courage by analyzing the confrontation of Peter by Paul in Galatians 2:11–14. Through contextual analysis of the story in Galatians 2, the reader will have a better understanding of why it has been identified as a crisis. The three topics include the crises of inclusion, the problem of fear, and the courage to confront. After the biblical text is analyzed, each section will look at current research on the topics and how they apply to modern organizational leaders.