2015 | OriginalPaper | Buchkapitel
1. Bone Tissue and Biomaterial Design Based on the Anisotropic Microstructure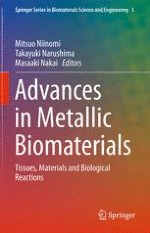 Autor: Takayoshi Nakano
Verlag: Springer Berlin Heidelberg
Abstract
Bone possesses many functions because of its well-organized hierarchical structure at various levels. Original intact bone exhibits specific anisotropic biological apatite (BAp) crystallite orientation that is closely related to the arrangement of collagen fibrils. Preferential alignment of anisotropic BAp crystallites/collagen fibrils in typical cortical and spongy bones, for example, changes depending on the bone shape, in vivo stress distribution, and bone turnover. The preferential alignment of the BAp
c
-axis, in particular, tends to orient along the stress distribution in the original bones, indicating bone mechanical anisotropy.
Recovery of anisotropic BAp alignment strongly depends on the regenerated portion and regeneration period, which is insufficient to reach the original level, while bone mineral density (BMD) is almost improved to its original value. This finding suggests that BMD recovers prior to the improvement of BAp alignment and the related mechanical function of the regenerated tissue. Remarkable changes in degree of anisotropic BAp orientation are also found in some pathological hard tissues including gene-defected animals developing osteoporosis, osteopetrosis, and osteoarthritis.
The bone tissue from the macro- to nano- scale level, including BAp/collagen orientation, exhibits anisotropic integrity that is closely related to mechanical adaptation. In fact, BAp/collagen alignment is among the most important bone quality indices that can be used to evaluate in vivo stress distribution, nanoscale microstructure, and the related mechanical function in various bones. Optimal design of biomaterials for bone replacement can be provided from the viewpoint of bone tissue anisotropy.