11.05.2021 | Materials for life sciences | Ausgabe 23/2021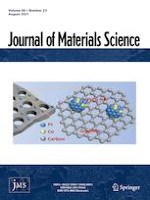 Boost antimicrobial effect of CTAB-capped Ni

x

Cu1−

x

O (0.0 ≤ 
x

 ≤ 0.05) nanoparticles by reformed optical and dielectric characters
Zeitschrift:
Autoren:

Basit Ali Shah, Bin Yuan, Yu Yan, Syed Taj Ud Din, Asma Sardar
Wichtige Hinweise
Handling Editor: Yaroslava Yingling.
Publisher's Note
Springer Nature remains neutral with regard to jurisdictional claims in published maps and institutional affiliations.
Abstract
Chemical doping and coating have been considered as efficient semiconductor physics strategies to modulate the physical, chemical, and biological properties of materials for the required applications. In this study, cetyltrimethylammonium bromide (CTAB) stabilizer-capped nickel-doped cupric oxide (Ni
x
Cu
1−

x
O) nanoparticles (NPs) with different doping concentrations (0.0 ≤ 
x
 ≤ 0.05) were synthesized via a one-step rapid and low-cost solvothermal synthesis route. The as-synthesized CTAB-capped Ni
x
Cu
1−

x
O NPs have been sightseen for their structural/morphological, optical/dielectric, and antimicrobial properties using XRD/SEM/TEM, FT-IR/UV–visible/Impedance spectroscopies, and Agar well diffusion method, respectively. Relevant results show enhanced optical, dielectric and antimicrobial properties with Ni doping due to the smaller size effect. Importantly, in vitro examination, the antimicrobial activity of the grown NPs was evaluated against four microbial species, exhibits that the CTAB-capped Ni-doped CuO NPs possess a command antimicrobial toxicity to
Staphylococcus aureus
(25923-ATCC),
Klebsiella pneumoniae
(700603-ATCC), and
Escherichia coli
(25922-ATCC) and an intermediate performance towards
Candida albicans
(24433-ATCC). The minimum inhibitory concentration (MIC) assay for the obtained CTAB-Ni
0.05
Cu
0.95
O sample upon
S. aureus
or
K. pneumoniae
pathogens reaches extremely as low as 5 μg ml
−1
for all reported CuO NPs. The improved dose-dependent antimicrobial effect has been found to be strongly dependent on the particle size, surface morphology, elemental compositions, and surface bio-functionality of the catalytic nanomaterials. Additionally, Ni-dopant, CTAB-stabilizer, and binding of Cu
+
/Cu
2+
ions with respiratory enzymes collectively produce an excess amount of reactive oxygen species (ROS) in the bacterial culture medium, which determines a predominant antibacterial mechanism for bacterial cells damage. Overall, these inorganic (Ni
x
Cu
1−

x
O) NPs with antimicrobial cationic surfactant (CTAB) have advantages to use as a functionalized disinfection nanoagent to control the microbial infections in the healthcare sector together with various electronic and photonic medical diagnoses.
Graphical abstract
×