11.08.2015 | Original Paper | Ausgabe 4/2016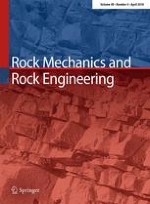 Borehole Breakouts Induced in Arkosic Sandstones and a Discrete Element Analysis
Zeitschrift:
Autoren:

H. Lee, T. Moon, B. C. Haimson
Abstract
A series of laboratory drilling experiments were conducted on two arkosic sandstones (Tenino and Tablerock) under polyaxial far-field stress conditions (
σ
h
≠
σ
H
≠
σ
v
). V-shaped breakouts, aligned with the
σ
h
direction and revealing stress-dependent dimensions (width and length), were observed in the sandstones. The microscale damage pattern leading to the breakouts, however, is different between the two, which is attributed to the difference in their cementation. The dominant micromechanism in Tenino sandstone is intergranular microcracking occurring in clay minerals filling the spaces between clastic grains. On the other hand, intra- and transgranular microcracking taking place in the grain itself prevails in Tablerock sandstone. To capture the grain-scale damage and reproduce the failure localization observed around the borehole in the laboratory, we used a discrete element (DE) model in which a grain breakage algorithm was implemented. The microparameters needed in the numerical model were calibrated by running material tests and comparing the macroscopic responses of the model to the ones measured in the laboratory. It is shown that DE modeling is capable of simulating the microscale damage of the rock and replicating the localized damage zone observed in the laboratory. In addition, the numerically induced breakout width is determined at a very early stage of the damage localization and is not altered for the rest of the failure process.