2019 | OriginalPaper | Buchkapitel
Boron-Doped Diamond and Graphitic Multiarrays for Neurotransmitter Sensing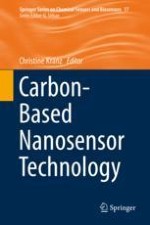 Erstes Kapitel lesen
Autoren: Alberto Pasquarelli, Federico Picollo, Valentina Carabelli
Abstract
Synaptic transmission is based on quantal release of neurotransmitters. Alterations of the molecular mechanisms and components governing exocytosis are at the basis of several neurological and neurodegenerative diseases. The aim of this chapter is to provide an overview on the most recent advances of boron-doped diamond (BDD) and graphitic multiarrays in monitoring quantal release of oxidizable neurotransmitters with submillisecond time resolution.
In Sect.
1
, diamond technology for realizing planar and flexible implantable arrays is detailed, as well as the electrochemical, Raman, and optical characterization of the materials. Section
2
is mainly dedicated to unravel the advantages of using high-density and low-density micro- and ultramicroarrays to perform multisite detection of quantal exocytosis, demonstrating their suitability to resolve subcellular exocytosis and to detect release from many cells simultaneously. The physiological relevance of the amperometric spike and its correspondence with the exocytotic event is described. Section
3
is focused on the great potentiality of emerging sensors based on quantum detection and their application in biosensing for imaging with atomic resolution.