20.04.2020 | Ausgabe 1/2020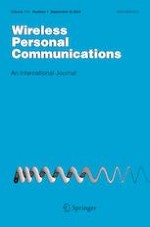 Brad-OF: An Enhanced Energy-Aware Method for Parent Selection and Congestion Avoidance in RPL Protocol
Zeitschrift:
Autoren:

Behrad Behrouz Vaziri, Abolfazl Toroghi Haghighat
Wichtige Hinweise
Publisher's Note
Springer Nature remains neutral with regard to jurisdictional claims in published maps and institutional affiliations.
Abstract
The Internet of Things networks comprise a large number of resource-limited nodes, which often use multi-hop communications to transfer packets to the gateway. Thus, finding the proper forwarding path and managing limited resources have always been important. In this paper, the aim is to improve the approach of selecting the parent nodes to extend the network lifetime and also prevent congestion in nodes' queues to prohibit network excessive traffic load. We address these issues in two ways. First, a linear combination equation is used to combine three crucial network metrics: ETX, delay, and node residual energy. Second, the "Node's Traffic Intensity" metric is used to detect and prevent congestion in nodes' queues. Results showed that by choosing appropriate nodes with higher battery-level for the paths toward the gateway and by avoiding numerous retransmissions, the nodes' energy and network lifetime increased up to about 65%. Furthermore, by preventing congestion and queue overflow in network nodes, the amount of packet-loss decreased up to 81%. Also, through decreasing packet retransmissions and consequently increasing the number of original packets, the total number of sent original packets was improved. The proposed method is implemented and simulated by the NS-2.