11.06.2019 | Ausgabe 14/2019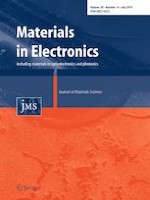 Branched dibenzofulvene-based organic dyes for dye-sensitized solar cells under one sun and dim light
Autoren:

Yung-Chung Chen, Guan-Wei Huang, Yuan-Jay Chang, Jun-Jie Wen
Wichtige Hinweise
Electronic supplementary material
Publisher's Note
Springer Nature remains neutral with regard to jurisdictional claims in published maps and institutional affiliations.
Abstract
Series of metal-free dyes (
OMS4
-
7
) featuring a dibenzofulvene connected with thienyl or furanyl as conjugation bridge, T-shaped diarylamines (diphenylamine or phenyl-1-naphthylamine) as donors and different numbers of cyanoacrylic acid as anchors have been synthesized and applied into dye-sensitized solar cells (DSSCs). The efects of different donors, conjuation segments and number of anchors on optical and photovoltaic properties were investigated through photophysics, electrochemical and photovoltaic measurements. Of the DSSCs, the structure contains mono anchor with thienyl dibenzofulvene linked to diphenylamine, i.e.
OMS4
-based device exhibited the highest power conversion efficiency (PCE) of 2.42%, a value of J
sc
of 6.01 mA cm
−2
, a V
oc
of 0.63 V, and a fill factor of 0.63 under 10 mM CDA co-adsorbent and AM 1.5 irradiation. The corresponding device was also conducted with respect to different light intensity such as D65, CWF and TL84. As a result, the cell performance based on TL84 with 2500 lx exhibited the best PCE of 8.78%.