2012 | OriginalPaper | Buchkapitel
5. Brassica Rhizosphere-Microbe Interactions and Their Role in Phytoremediation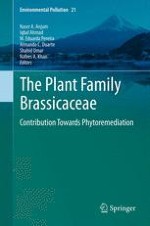 Erstes Kapitel lesen
Autoren: Mushtaq Ahmed, V. K. Singh, R. S. Upadhyay
Verlag: Springer Netherlands
Abstract
Numerous toxic metals such as cadmium, selenium, lead, zinc etc. released from industrial production, mining, smelting and traffic contaminate the agricultural soils. This has raised concerns not only for crop quality but also for human health. Engineering and/or microbial based technologies are used to remove the toxic metals from contaminated soils. But these approaches are costly and less efficient in comparison to phytoremediation technique which has emerged as more efficient and cost effective method for decontamination of the toxic metal affected sites. There are highly specialized plants that have the ability to accumulate and tolerate high concentrations of toxic metals from soils and may provide the basis for remediation of heavy metal contaminated sites. Members of the family Brassicaceae have a key role in phytoremediation technology. Metal uptake, sensitivity and sequestration have been extensively investigated in
Arabidopsis thaliana.
There are a number of
Brassica
and related crop species that have been reported as the potential candidates for phytoremediation.
Brassica
spp. display a great diversity of morphological form and many are of economic value as oilseeds, vegetables and forages. They are well suited to genetic manipulation and
in vitro
culture techniques and are attractive candidates for the introduction of genes aimed at phytoremediation.
Brassica
oilseeds are adaptable to a range of environmental conditions. Moreover, rhizosphere of
Brassica
spp. is colonized by several beneficial microbes that can be isolated, mass cultured and utilized to maximize the biomass of this crop plant for use in phytoremediation technology. These microbial inoculants are cheaper as compared to the chemical fertilizers, and are not hazardous to the environment.