2012 | OriginalPaper | Buchkapitel
10. Brassicas in Turkey and Their Potential Role for Degraded Habitats' Remediation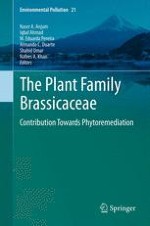 Erstes Kapitel lesen
Autoren: Munir Ozturk, Abdul R. Memon, Salih Gucel, M. Serdal Sakcali
Verlag: Springer Netherlands
Abstract
A survey undertaken in Turkey revealed that there are six species of
Brassica
genus distributed in the wild in Turkey.
Brassica elongata, B. nigra
,
B. tournefortii
,
B. cretica
,
B. deflexa
and
B. campestris
. Cultivated forms found in Turkey are kale, cauliflower, cabbage, brussel sprouts, kohlrabi and broccoli. Mediterranean region is most probably concerned with their domestication and cultivated forms of the genus were probably introduced into Asia during ancient times. Studies conducted on the germination and growth behaviour of some of these species revealed that the seeds of
B. nigra
show a dormancy period of 6 months, whereas other species germinate immediately. Growth regulators not only stimulate the germination under salinity stress, but also overcome the delaying effects of salt. Ethephon sprayed on plants using different solutions showed that at higher concentrations there is a stimulation in vegetative and reproductive growth. Molecular studies of the genomes of species of the Brassicaceae such as
B. napus
has revealed that there is an extensive genome duplication, indicative of multiple polyploidy events during evolution. Extensive genetic and molecular analysis has been done on six cultivated
Brassica
species. The four closely related crop species
B. rapa
,
B. juncea
,
B. napus
, and
B. carinata
provide about 12% of the worldwide edible oil supply. The other two species
B. nigra
and
B. oleracea
provide many vegetables for healthy human diet having a valuable source of dietary fiber, vitamin C and other anticancer compounds.
B. nigra
has the second smallest genome size among the six cultivated species of
Brassica
.
Brassica
species are well known as metal accumulators and some of them are being used for phytoremediation in contaminated soils. Approximately 25% of the documented metal hyper accumulating species are members of the
Brassicaceae
. Because of their slow growth and low biomass, other fast-growing and high biomass
Brassica
crop plants, for example
B. juncea
and
B. nigra
have been evaluated for their ability to hyper accumulate metals from contaminated soils. The Diyarbakir ecotype of
B. nigra
distributed in the southeastern part of Turkey is a good hyperaccumulator of Cu. Microarray analysis undertaken during the comparative transcriptome analysis in order to find out the expression level of metal induced genes and transcriptome changes both in low and high Cu treated plants showed that some of the genes were highly expressed (several hundred fold) with Cu treated plants compared to control. Microarray data using Affymetrix GeneChip Arabidopsis Genome Array (ATH1-121501 Genechip) indicated that possibly several genes including the genes in glutathione pathway, metal ATPase and ABC transporters are involved in metal tolerances in this ecotype.