28.02.2017 | Ausgabe 1/2018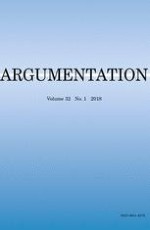 Breaking Out of the Circle
Zeitschrift:
Autor:

John Caravello
Abstract
What's wrong with begging the question? Some philosophers believe that question-begging arguments are inevitably fallacious and that their fallaciousness stems from a shared "formal" deficiency. In contrast, some philosophers, like Robinson (Analysis 31:113–117,
1971
) deny that begging the question is fallacious at all. And others characterize begging the question as an "informal" fallacy of reasoning that can only be understood with the aid of epistemic (as opposed to syntactic and semantic) notions. Sorensen (Analysis 56:51–55,
1996
) joins this last camp by offering a powerful argument against both Robinson's skepticism and fully formal approaches to the phenomenon. According to Sorensen's view, question-begging is fallacious because it compromises the rationality of the question-beggar's position. Though his argument forces Robinson into a peculiar dialectical position, it does little to elucidate the reasons why Robinson's position is unstable and it fails to embody Sorensen's own conception of rationally persuasive argumentation. I utilize this conception to show how Robinson is left with no easily identifiable grounds on which to deny the fallaciousness of begging the question. By advancing the dialectic between Sorensen and Robinson, I aim to show that our argumentative practices must take the perspectives of others seriously, whether or not those perspectives are rational.