2015 | OriginalPaper | Buchkapitel Open Access
17. Bridging the Gap Between Nonlinear Seismology as Reality and Earthquake Engineering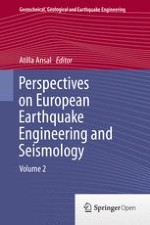 Autoren: Gheorghe Marmureanu, Carmen Ortanza Cioflan, Alexandru Marmureanu, Constantin Ionescu, Elena Florinela Manea
Abstract
In seismic hazard evaluation and risk mitigation, there are many random and epistemic uncertainties. On the another hand, the researches in this area as part of knowledge are with rest, that is, the results are with interpretable questions with
open answers
. The knowledge cannot be exhausted by results. The authors developed in last time the concept of "
Nonlinear Seismology – The Seismology of the XXI Century
" (Marmureanu et al. Nonlinear seismology-the seismology of XXI century. In: Modern seismology perspectives, vol 105. Springer, New York, pp 49–70, 2005).
The leading question is: how many cities, villages, metropolitan areas, etc., in seismic regions are constructed on rock? Most of them are located on soil deposits. A soil is of basic type sand or gravel (termed coarse soils), silt or clay (termed fine soils), etc. Strong ground accelerations from large earthquakes can produce a nonlinear response in shallow soils. This can be studied by comparing surface and borehole seismic records for earthquakes of different sizes. When a nonlinear site response is present, then the shaking from large earthquakes cannot be predicted by simple scaling of records from small earthquakes (Shearer, Introduction to seismology, 2nd edn. Cambridge University Press, Cambridge, 2009).
Nonlinear amplification at sediments sites appears to be more pervasive than seismologists used to think…Any attempt at seismic zonation must take into account the local site condition and this nonlinear amplification
(Aki, Tectonophysics 218:93–111, 1993).
The difficulty for seismologists is to demonstrate the nonlinear site effects, these being overshadowed by the overall patterns of shock generation and propagation. In other words, the seismological detection of the nonlinear site effects requires a simultaneous understanding/knowledge of
earthquake source
,
propagation path
, and
local geological
site conditions. To see the actual influence of nonlinearity of the
whole system
(seismic source-path propagation-local geological structure),
the authors used to study the free field response spectra which are the last in this chain and are taken into account in seismic design of all structures.
Soils from the local geological structure at the recording site exhibit a strong nonlinear behavior under cyclic loading conditions and although they have many common mechanical properties, the use of different models to describe their seismic behavior is required.
The studies made by the authors in this chapter show that using real spectral amplification factors (SAF), amplifications showing local effects, have values which differ totally from those of crustal earthquakes. The spectral amplifications highlight strong nonlinear response of soil composed of fractured limestone, limestone with clay, marl, sands, clay, etc., and these amplifications are strongly dependent of earthquake magnitude and nature of soils from site. Finally, these amplifiers are compared to those from Regulatory Guide 1.60 of the U. S. Atomic Energy Commission (Design response spectra for seismic design of nuclear power plants. Regulatory Guide 1.60. Rev. 1, Washington, D.C., 1973) which can be used only for crustal earthquakes and not for deep and strong Vrancea earthquakes from Romania. The study of the nonlinear behavior of soils during strong earthquakes may clarify uncertainties in ground motion prediction equations used by probabilistic and classical deterministic seismic hazard analysis.