14.12.2017 | Chemical routes to materials | Ausgabe 7/2018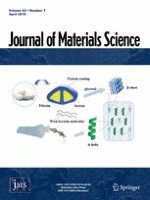 Brightly luminescent and color-tunable CaMoO4:RE3+ (RE = Eu, Sm, Dy, Tb) nanofibers synthesized through a facile route for efficient light-emitting diodes
Zeitschrift:
Autoren:

Yang Ding, Jie Liu, Yan Zhu, Siyang Nie, Weili Wang, Junli Shi, Yanru Miu, Xibin Yu
Wichtige Hinweise
Electronic supplementary material
Abstract
One-dimensional CaMoO4:RE3+ (RE = Eu, Sm, Dy, Tb) nanofibers were successfully synthesized through a facile supersaturated recrystallization process. These CaMoO4:Ln3+ nanofibers have the length ranging from 40 to 70 nm and the width of nearly 2 nm. Under UV excitation, these single-doped CaMoO4 nanofibers shown stronger emission, and the photoluminescence quantum efficiency is 25.7% (CaMoO4:Eu3+), 22.4% (CaMoO4:Sm3+), 23.2% (CaMoO4:Dy3+) and 27.7% (CaMoO4:Tb3+), respectively. Moreover, our work reveals that various emission colors can be obtained and tuned from pure red to delight green via co-doping Tb3+ and Eu3+ in the CaMoO4 host, and the energy transfer properties from Tb3+ to Eu3+ are also demonstrated. Finally, we apply the green CaMoO4:Tb3+, red CaMoO4:Eu3+ and white CaMoO4:0.05Tb3+, 0.02Eu3+ for LED devices, and these nanofiber-based LEDs present high efficiency and stability, which indicates the promising application in future optoelectronic fields.