2017 | OriginalPaper | Buchkapitel
18. Britain Open for Business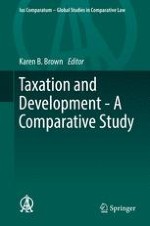 Erstes Kapitel lesen
Autor: Rita Cunha
Abstract
The UK Government has recently declared its commitment to creating the most competitive tax regime in the G20 for holding companies and business hubs. In pursuing this goal, it has reduced corporate tax rates and introduced a branch profits exemption. It has also created a new patent box regime and extended business deductions and investment exemptions. Investment in emerging countries is promoted through tax sparing provisions and an extensive network of bilateral investment treaties. It is not yet clear how Brexit will impact the UK tax system, but the Government has already announced its intention to privilege trade with emerging economies.
Synopsis
The UK Government has expressly asserted that the UK tax system aims to promote foreign investment. Several measures have been introduced for this purpose. The corporate tax rate has been gradually reduced from 28 to 20 % and further reduction to 18 % is contemplated. Another strategy has been to move towards a more territorial corporate tax regime. Despite the general rule being taxation on a worldwide basis, the recent branch profits exemption justifies the claim that territorial principles now dominate the UK corporate tax regime. Generous exemptions for inbound and outbound dividends have been created over the years. In the absence of an exemption, a credit for foreign taxes paid is allowed against the UK tax liability (either under domestic law or a treaty). For attracting specific types of investment, a new patent box regime was created (featuring a 10 % tax rate for profits from the development and exploitation of patents), along with generous research and development (R & D) deductions. Special deductions for film, television, theater and video game development have been introduced over the past few years.
Investment in emerging countries is promoted via tax sparing provisions in tax treaties and an extensive network of bilateral investment treaties. Tax sparing provisions are contained in the following tax treaties: Bangladesh, Belize, Bosnia and Herzegovina, Botswana, Bulgaria, Croatia, Cyprus, Egypt, Ethiopia, Fiji, The Gambia, Guyana, India, Indonesia, Israel, Ivory Coast, Jamaica, Kenya, Kiribati, Malaysia, Mauritius, Montenegro, Morocco, Nigeria, Pakistan, Papua New Guinea, Portugal, Serbia, Spain, Sri Lanka, Sudan, Thailand, Trinidad and Tobago, Tunisia, Turkey, Tuvalu, Uganda, and Zambia.
While promoting inward and outward investment, the UK has also adopted a number of strategies to protect its tax base from abusive practices. It introduced a GAAR (General Anti-Avoidance Rule) in 2013 and continues to introduced SAARs (specific anti-avoidance rules) every financial year. The deterrent effect of the GAAR was reinforced in 2014 when the HMRC was attributed the power to require taxpayers to pay the tax upfront, regardless of the tax liability being litigated (Advanced Payment Notice). Other important anti-avoidance regimes include CFC legislation, transfer pricing rules, worldwide debt caps and the unique Diverted Profits Tax (the so-called "Google Tax"). The latter may determine a charge of 25 % of the profits diverted through (i) the exploitation (by foreign enterprises) of the permanent establishment regime; and (ii) transactions or entities lacking economic substance.
The UK has introduced disclosure regimes to deter avoidance schemes and promote transparency in the tax regime. Taxpayers and promoters are required to provide prescribed information to HMRC, under the Disclosure of Tax Avoidance Schemes (DOTAS) regime.
The Promoters of Tax Avoidance Schemes (POTAS) regime reinforces the disclosure obligations under DOTAS. Failure to comply with these regimes may result in serious penalties. At the international level, the UK has entered into a number of FATCA agreements and TIEAs (Tax Information Exchange Agreements). It collaborates with the OECD regarding the implementation of international standards for exchanging information. The OECD's Global Tax Forum has considered the UK to be largely compliant, despite suggesting the renegotiation of several of its older treaties.