2015 | OriginalPaper | Buchkapitel
Build-Up and Support for Regional Initiatives around Opencast Mines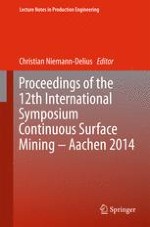 Erstes Kapitel lesen
Autoren: Michael Eyll-Vetter, Jens Voigt
The relations between Germany's lignite industry and other regional actors is an important gauge for the regional anchoring of this branch of Germany's energy industry. Partnership at eye level is vital to these relations and has given rise to new forms of cooperation. This becomes especially apparent when it comes to shaping regional structures and further strengthening of the region's economic structure.
The
Indeland
and
Terra Nova
projects are good examples of the efforts to reshape regional structures in the post-mining phase. Within the scope of the
Indeland
project, Düren county and several towns and municipalities in the vicinity of the Inden opencast mine came together to take action. In the years that followed, the non-profit Aachen-based Kathy Beys foundation lent its support to the process with the aim of redeveloping the structure of the post-mine landscape and the rural area around the opencast mine.
The
Terra Nova
project network in the area of the Hambach and Fortuna opencast mines likewise consists of several modules and has worked out an overall regional concept with the support of RWE, and this concept is being implemented. In a next step, the neighbouring communities around the Hambach and Garzweiler opencast mines are to be included in the further development within the initiatives in the mines' vicinity. On account of the much longer mine operating times, the focus in Hambach and Garzweiler is also on the gradual implementation of measures for upgrading the townships on the mines' rim, this in addition to the planning of recultivation. Inter-municipal structural projects are also to be developed.
The Rhenish mining area has for many years now had an efficient and broadbase economic structure. Its further strengthening is a joint task for regional actors and the lignite industry. The region's economic clout is to be strengthened and diversified along these lines by providing further economic mainstays besides lignite. The lignite industry and regional entities have traditionally driven forward the development of industrial estates and a corresponding settlement policy on a joint basis. The focus here is above all on medium-sized business: 3,500 new jobs have been created by investment in the last ten years based on industrial estates at various locations in the mining area, which have either been implemented or are in the pipeline.
In the agricultural region, the food sector, too, plays an important part. RWE Power has been successfully working for some time now on the utilisation of the energy content of waste heat from the cooling-tower and sump water for agricultural production. A partnership-based approach underlies the cooperation between lignite companies and municipalities in the development of projects and also in the distribution of opportunities and risks.