2016 | OriginalPaper | Buchkapitel
Bundled Crossings in Embedded Graphs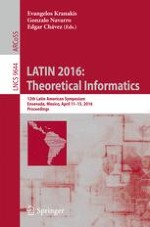 Erstes Kapitel lesen
Autoren: Martin Fink, John Hershberger, Subhash Suri, Kevin Verbeek
Verlag: Springer Berlin Heidelberg
Abstract
Edge crossings in a graph drawing are an important factor in the drawing's quality. However, it is not just the presence of crossings that determines the drawing's quality: any drawing of a nonplanar graph in the plane necessarily contains crossings, but the geometric structure of those crossings can have a significant impact on the drawing's readability. In particular, the structure of two disjoint groups of locally parallel edges (
bundles
) intersecting in a complete crossbar (a
bundled crossing
) is visually simpler—even if it involves many individual crossings—than an equal number of random crossings scattered in the plane.
In this paper, we investigate the complexity of partitioning the crossings of a given drawing of a graph into a minimum number of bundled crossings. We show that this problem is
NP
-hard, propose a constant-factor approximation scheme for the case of
circular embeddings
, where all vertices lie on the outer face, and show that the bundled crossings problem in general graphs is related to a minimum dissection problem.