2013 | OriginalPaper | Buchkapitel
11. Burden of Disease from Produce and Seafood Contamination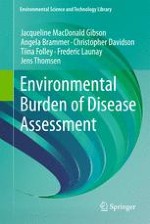 Erstes Kapitel lesen
Autoren: Jacqueline MacDonald Gibson, Angela S. Brammer, Christopher A. Davidson, Tiina Folley, Frederic J. P. Launay, Jens T. W. Thomsen
Verlag: Springer Netherlands
Abstract
Eating fruits and vegetables is beneficial to human health but exposes people to risk if the produce contains hazardous contaminants. Two potential contaminants are human pathogens (e.g.,
Salmonella, E. coli
) and agricultural pesticides (e.g., organophosphates, carbamates), both of which can be reduced with proper food handling and preparation. Foodborne pathogens can cause and/or contribute to an array of human illnesses, including acute gastroenteritis as well as more complex chronic conditions such as organ failure, arthritis, and heart disease. Agricultural pesticide exposure can result in dizziness, nausea, abdominal cramps, diarrhea, tremors, anxiety, confusion, neurological disorders, developmental/reproductive disorders, and death. Because large percentages of fruit, vegetables, grains, and legumes consumed in the United Arab Emirates are produced abroad, pesticide use and other farm management practices in countries exporting to the UAE will affect contamination levels of food consumed in the UAE. Domestically harvested seafood has historically been a primary staple of the Emirati diet. More than 90% of citizens eat fish during at least one meal every week. Consumption of fish provides numerous documented health benefits, including a reduction in risk of chronic heart disease; however, fish can also serve as a vector for pathogenic microorganisms (e.g.,
Vibrio
spp.), heavy metals (e.g., mercury) and other toxins (e.g., dioxin). Estimates of illness resulting from seafood consumption focus on exposure to mercury. Although numerous metals can result in adverse health effects if consumed in seafood, mercury is generally regarded as of greatest concern. Chronic mercury poisoning results in a host of neurological and psychological symptoms, including tremors, motor/cognitive dysfunction, and memory loss. Exposure in utero can result in serious lifetime illness, including mental retardation, sensory loss, developmental delay, cerebral palsy, and seizures. In lieu of estimating foodborne mortality and morbidity cases, our modeling approach directly calculates the probability of exceeding international guidelines for exposure to specific hazardous chemicals in fruit, vegetables, and seafood in the UAE. For fruits and vegetables, the model estimates the number of daily incidents in which UAE residents are exposed to a particular type of pesticide residue above a prespecified benchmark dose, due to eating a particular type of fruit or vegetable. For seafood, the model estimates the number of daily incidents in which UAE residents are exposed to mercury levels above the reference dose maintained by the U.S. Environmental Protection Agency due to eating fish. Results of daily cases in which a UAE resident may be at risk of overexposure to methylmercury from eating seafood and exceeding the reference dose suggest 2,927 women and 11,882 men—with the gender imbalance an artifact of the male-dominated expatriate workforce—could be at risk for health effects. Of all pesticides and crops, chlorpyrifos on tomato has the highest mean ratio (0.26) of average estimated pesticide exposure (0.000078 mg/kg) to its chronic population adjusted dose (cPAD) value (0.0003 mg/kg), making tomatoes the most suitable candidate for a worst-case hypothetical scenario. Considering an atypical but theoretical UAE resident eating 100% tomatoes, and assuming no reduction in pesticide due to washing, peeling, and/or cooking, the model estimates this person has 20.6% (chlorpyrifos) and 1.0% (vinclozolin) chances of exceeding cPAD values each day. Overall, this model estimates 631,074 worst-case daily incidents (cPAD exceedance) contributing to potential chronic illness. Although these probabilities may seem high, daily cPAD incidents are assumed contributory toward potential cases of annual chronic illness; the model assumes (worst-case) no reduction in pesticide due to washing, peeling, and/or cooking for all incidents; and, only very limited human epidemiologic studies exist to objectively link chronic pesticide exposure with adverse health effects—a major reason for the safety factors already built into the cPAD and other benchmarks.