03.06.2019 | Research Article | Ausgabe 4/2019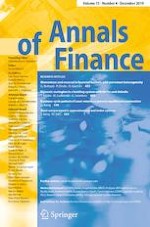 Business-cycle pattern of asset returns: a general equilibrium explanation
Zeitschrift:
Autor:

Qiang Kang
Wichtige Hinweise
This paper is revised from the second chapter of my Ph.D. dissertation. I am indebted to Andrew B. Abel, Michael W. Brandt, A. Craig MacKinlay, and Roberto Mariano for their guidance and encouragement. I thank an anomynous referee, Bill Dupor, Lixin Huang, Urban Jermann, José-Víctor Ríos-Rull, Amir Yaron, and seminar participants at Wharton School, Economics Department at University of Pennsylvania, the Inter-university Conference at New York University, and the Financial Management Association Annual Meeting for helpful comments and suggestions. Any errors are mine.
Publisher's Note
Springer Nature remains neutral with regard to jurisdictional claims in published maps and institutional affiliations.
Abstract
I develop an analytical general-equilibrium model to explain economic sources of business-cycle pattern of aggregate stock market returns. With concave production functions and capital accumulation, a technology shock has a pro-cyclical direct effect and a counter-cyclical indirect effect on expected returns. The indirect effect, reflecting the "feedback" effect of consumers' behavior on asset returns, dominates the direct effect and causes counter-cyclical variations of expected returns. I show that the conditional mean, volatility, and Sharpe ratios of asset returns all vary counter-cyclically and they are persistent and predictable, and that stock market behavior has forecasting power for real economic activity.