2008 | OriginalPaper | Buchkapitel
Business Ethics and the Rhetoric of Reaction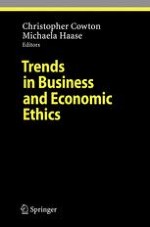 Erstes Kapitel lesen
Autor: Alexander Brink
Verlag: Springer Berlin Heidelberg
The past years have nurtured the hope that business ethics would become increasingly a field of application and research for management. This development was certainly spurred on by several international corporate scandals as well as the concern that false management theories might be held (jointly) responsible for such bad managerial praxis (cf. Ghoshal 2005 as well as Ghoshal/Moran 1996). In regard to the strategic aspects of business ethics, the 1980s saw the establishment of diverse fields of research in the Germanspeaking world. In broad terms, one can identify two major camps. The first practices a business ethics which, in certain circumstances,
correctively
intervenes in corporate strategy. For this reason, some speak here of a
corrective business ethics
(cf. e.g. Büscher 1995 and Ulrich 2004). Advocates of such an approach argue for a type of business ethics which can be traced back to the theories of Horst Steinmann. The second faction argues that ethics should be integrated into the economic paradigm. Advocates of this stance often face the critique that their approach is merely
functional
: that ethics is used as the "lubricant" for economics. For this reason such an approach is called
functional business ethics
(cf. e.g. Büscher 1995 and Ulrich 2004).
In the following paper, I would like to show (via a long-term and, in part, even evolutionary perspective) how both positions are in fact compatible. In simplified terms, and based on the current situation,2 one can in principle represent this as a two-stage process: In the first stage, economics is enriched with the functionalization of ethics. This then allows at least for an easier (though admittedly not effortless) implementation of a corrective (and extending up to an integrative) approach. Massive resistance from economists (as is still experienced today) should then no longer be expected. As such, we are dealing here, on the one hand, with a systematic or analytical compatibil- ity; but on the other hand, we have an evolutionary as well as a historical perspective.