2008 | OriginalPaper | Buchkapitel
51.
C

-Glycosyl Analogs of Oligosaccharides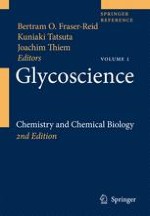 Erstes Kapitel lesen
Autoren: Boris Vauzeilles, Dominique Urban, Gilles Doisneau, Jean-Marie Beau
Verlag: Springer Berlin Heidelberg
Abstract
This chapter covers the synthesis of a large collection of "
C
-oligosaccharides ", synthetic analogs of naturally occurring oligosaccharides in which a carbon atom replaces the anomeric, interglycosidic oxygen atom. These non-natural constructs are stable to chemical and enzymatic degradation, and are primarily devised to probe carbohydrate-based biological processes. These mainly target carbohydrate‐protein interactions such as the modulation of glycoenzyme (glycosylhydrolases and transferases) activities or the design of ligands for lectin Carbohydrate Recognition Domains. The discussion is based on the key carbon–carbon bond assembling steps on carbohydrate templates: ionic (anionic and cationic chemistries, sigmatropic rearrangements) or radical assemblage, and olefin metathesis. Synthetic schemes in which at least one of the monosaccharide units is constructed by total synthesis or by cyclization of acyclic chiral chains are presented separately in a "partial de novo synthesis" section. The review also provides comments, when they are known, on the conformational and binding properties of these synthetic analogs, as well as their biological behavior when tested.