11.01.2021 | ORIGINAL ARTICLE | Ausgabe 2/2021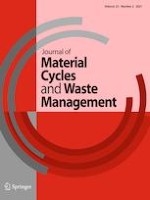 Calcinated conch shells combined with Raney Ni as high-performance catalyst for cyclopentanol Guerbet reaction
Zeitschrift:
Autoren:

Qianqian Xu, Ke Ye, Na Li, Jian Zhang, Haiqiang Shi, Meihong Niu, Xueru Sheng, Qingwei Ping
Wichtige Hinweise
Supplementary Information
Publisher's Note
Springer Nature remains neutral with regard to jurisdictional claims in published maps and institutional affiliations.
Abstract
Waste seashells derived CaO + Raney Ni catalyst were first used for Guerbet reaction of cyclopentanol, which was a meaningful reaction towards bio-jet fuel synthesis. This way would tally with the concept of green chemistry and economic efficiency. Cyclopentanol is well-known as a kind of lignocellulose-derived downstream platform chemicals, which is nonedible, much cheaper and easily available. In this study, the effects of shell source, calcination temperature, catalyst particle size on the activity of Guerbet reaction were investigated. Among these catalysts, C-shell-950 + Raney Ni exhibited the best catalytic performance. 94.6% total yield was achieved over C-shell-950 + Raney Ni (dimer yield: 76.3%, trimer yield: 18.3%), which was comparable to commercial CaO and Raney Ni catalysts (96.8%). Commercial CaO can be replaced directly by C-shell-950 catalysts without grinding. According to the results of multiple characterizations, two major factors were revealed to the excellent catalytic performance of C-shell + Raney Ni catalysts: (1) high CaO content of the C-shell catalysts; (2) the existence of promotion effect element (Na species) and negative effect elements (S, Al, and Si species) may affect the reaction. This work exhibited a new route for waste seashells recycle utilization and waste management in biomass platform molecules conversion.