2016 | OriginalPaper | Buchkapitel
5. Can a Country Be a Donor and a Recipient of Aid?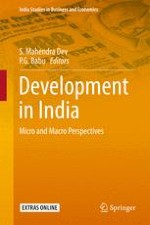 Erstes Kapitel lesen
Autor: Ravi Kanbur
Verlag: Springer India
Abstract
India has now crossed the threshold into Middle Income Status. It is a nuclear power and has a space program. It has announced the formation of an agency to coordinate its aid donor activities. And yet India is the recipient of international aid as well. Can this configuration, on the face of it absurd, nevertheless make sense? This paper explores frameworks in which a Middle Income Country might go on receiving aid despite having crossed a poverty threshold on average. It begins with a discussion of "Global Rawlsianism" and its critics, most prominently Rawls himself, and assesses the moral salience of national level averages in determining global responsibility towards the poor in a country. The next section takes the perspective of Global Utilitarianism and discusses the allocation of global aid with the objective of poverty alleviation, and whether in this context it might make sense for a country to be a donor and a recipient of aid. Finally, the paper takes an operational perspective and discusses some of the key issues facing the international community in the next few years, including the nature of the replenishment of IDA, the World Bank's concessional assistance window.