2014 | OriginalPaper | Buchkapitel
Can Cosegmentation Improve the Object Detection Quality?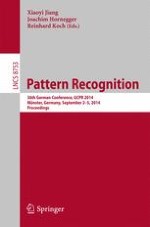 Erstes Kapitel lesen
Autor: Timo Lüddecke
Abstract
In order to train an object detector usually a large annotated dataset is needed, which is expensive and cumbersome to acquire. In this paper the task of collecting these annotations is automated to a large extent by cosegmentation, i.e. the simultaneous segmentation of multiple images. This way only weak requirements on the input must be obeyed: The respective object must occur in every image exactly once and has to be at least slightly salient. Obviously, this facilitates the collection of an appropriate training set. On the cosegmentation's result a straightforward object detector is trained for the underlying object. Both steps, cosegmentation and detection, share the representation of regions. Results show competitive results on cosegmentation datasets and indicate that detection actually benefits from a prior cosegmentation.