2000 | OriginalPaper | Buchkapitel
Can Ecological Taxes Play a Role in Diminishing the Health Impacts of Waste Management?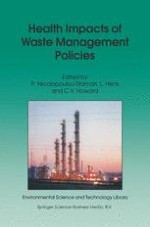 Erstes Kapitel lesen
Autor: C. Steenwegen
Verlag: Springer Netherlands
Enthalten in: Professional Book Archive
The best way to diminish the health impacts of waste management is to prevent their generation. Economic instruments and in particular environmental taxes can play an important role in such a preventative policy. They allow the scarcity of environmental resources and the external costs related to the generation and management of waste to reflect on the market price system. Environmental taxes in waste management can also be used to discourage the least desirable disposal practices, to fill the cost gap between recovery and disposal, and to prevent society on the whole from bearing the negative consequences of environmentally unfriendly treatment and disposal practices, which is in contradiction to the 'polluter pays' principle. The use of environmental taxes is reasonably practised in a number of EU member states. Most taxes in waste management are either contributions for a community service (like the collection of municipal waste) or taxes on disposal in order to make separate collection and recycling more attractive.In Belgium a set of ecotaxes on products was introduced to support a policy of waste prevention. These taxes are regulatory taxes, which means that their main purpose is to change the behaviour of producers and consumers. Taxes were introduced on one-way beverage containers, throw-away products, industrial packaging, etc. There was a lot of resistance towards the implementation of these taxes. It illustrates that there is a big difference between supporting environmental taxes in theory and in practice.