2017 | OriginalPaper | Buchkapitel
Can Existing Biomedical Ontologies Be More Useful for EHR and CDS?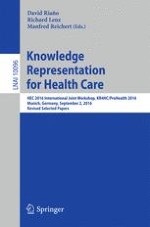 Autoren: Jesualdo Tomás Fernández-Breis, Manuel Quesada-Martínez, Astrid Duque-Ramos
Verlag: Springer International Publishing
Jetzt einloggen
Abstract
The interoperability of Electronic Health Records (EHR) and Clinical Decision Support (CDS) systems is a major challenge in the medical informatics field. International initiatives propose the use of ontologies for bridging both types of systems. The next-generation of EHR and CDS systems are supposed to use ontologies, or at least ontologies should be fundamental for enabling their interoperability. This situation makes necessary to analyze if current ontologies are ready for playing such intended role. In this paper we describe and discuss some important issues that need to be solved in order to have optimal ontologies for such a purpose, such as the need for increasing reuse in ontologies, as well as getting axiomatically richer ontologies. We also describe how our recent research results in the areas of ontology enrichment and ontology evaluation may contribute to such a goal.