17.10.2016 | Original Paper | Ausgabe 1/2017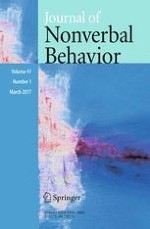 Can I Trust You? Laterality of Facial Trustworthiness in an Economic Game
Zeitschrift:
Autoren:

Matia Okubo, Kenta Ishikawa, Akihiro Kobayashi, Hikaru Suzuki
Abstract
People tend to turn their left or right cheek to express or conceal emotions, respectively. We examined the lateral posing bias for displaying trustworthiness during a trust game in which participants and their virtual partners cooperated or did not cooperate with their counterparts to earn a monetary reward. Right-handed participants (
N
= 81) were asked to pose for a photograph and then play the trust game. Participants showed an overall left posing bias (i.e., showing their left cheek to the camera). The left cheek bias was more stable for participants that cooperated very little in the trust game (non-cooperators) than for those that cooperated a lot (cooperators). In the rating experiment (
N
= 28 and 25), non-cooperators showing their left cheek were rated equally as trustworthy as cooperators. On the other hand, non-cooperators who showed their right cheek were rated as less trustworthy than cooperators. These results suggest that non-cooperators intuitively use the left hemiface to exploit others in social interactions.