2017 | Supplement | Buchkapitel
Can Learning by Qualitative Modelling Be Deployed as an Effective Method for Learning Subject-Specific Content?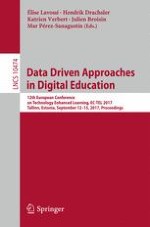 Erstes Kapitel lesen
Autoren: Erika Schlatter, Bert Bredeweg, Jannet van Drie, Peter de Jong
Abstract
Modelling can help understanding dynamic systems, but learning how to model is a difficult and time-consuming task. The challenge is to foster modelling skills, while not limiting the learning of regular subject matter, or better, to also improve this learning. We investigate how learning by qualitative modelling can be as successful as a regular classroom setting that uses an active and stimulating approach. 74 students from two high schools participated in two Biology lessons. Particularly, in the school 2 study, students in the modelling condition improved as much as students in the control group.