2018 | OriginalPaper | Buchkapitel
Can Tax Reforms Reduce Inequality?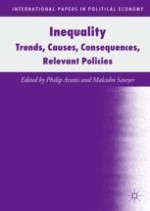 Erstes Kapitel lesen
Autor: Ahmad Seyf
Abstract
This chapter examines the impact of tax reforms on inequality. It begins with an examination of the meaning of inequality and its dimensions. While the usual division of 1% and 99% has its own merit, this chapter argues that the situation is more complex, especially among the 99%. The real income of those in the middle of the distribution has also stagnated in recent decades. On the other hand, primarily due to inadequate investment, growth rate in most economies has been sluggish. This chapter focuses on policies to reduce inequality and proposes two sets of reforms. First, given the regressive nature of indirect taxation, the balance between direct and indirect taxation should alter. The second set of reforms should try to make our tax system more efficient. To be more effective, the size and composition of fiscal intervention should change and more resources should become available to tackle inequality.