2013 | OriginalPaper | Buchkapitel
Can We Make a Finsler Metric Complete by a Trivial Projective Change?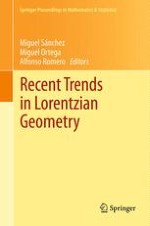 Erstes Kapitel lesen
Autor: Vladimir S. Matveev
Verlag: Springer New York
Abstract
A trivial projective change of a Finsler metric
F
is the Finsler metric
F
+
d f
. I explain when it is possible to make a given Finsler metric both forward and backward complete by a trivial projective change.Though the problem is purely Finslerian, it was inspired by Lorentz geometry and mathematical relativity: it was observed that it is possible to understand the light-like geodesics of a (normalized, standard) stationary 4-dimensional space time as geodesics of a certain Finsler Randers metric on a 3-dimensional manifold. The trivial projective change of the Finsler metric corresponds to the choice of another 3-dimensional slice, and the existence of a trivial projective change that is forward and backward complete is equivalent to the global hyperbolicity of the space time.