2018 | OriginalPaper | Buchkapitel
Can Young Olive Plants Overcome Heat Shock?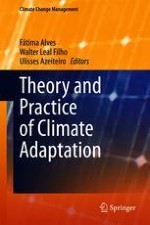 Erstes Kapitel lesen
Autoren: Márcia Araújo, Conceição Santos, Maria Celeste Dias
Abstract
Climate change is bringing more frequent and intense heat waves over the last years. Under this circumstance, it is important to understand whether species can tolerate stress and which mechanisms are involved in this adaptation process. Olive tree (
Olea europaea
L.) have been known for centuries to be drought tolerant, but less is known about the impact on the physiological response of this species to heat. To understand how young olive plants deal with heat shock, one-year-old plants (cv. 'Arbequina'), grown at 23 ± 2 °C, were exposed to heat, 40 °C, for 2 h. Relative water content, gas exchange, carbohydrates content, cell membrane permeability and lipid peroxidation were assessed immediately after heat exposure. The heat shock treatment compromised plant water status, photosynthesis and induced stomatal closure. However, neither membrane damage nor carbohydrates contents (total soluble sugars and starch) were affected. The results indicate that young olive plants can overcome short heat shock episodes.