2014 | OriginalPaper | Buchkapitel
11. Cancer After Metastasis: The Second Transformation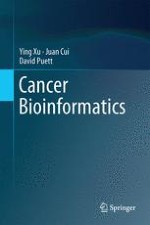 Erstes Kapitel lesen
Autoren: Ying Xu, Juan Cui, David Puett
Verlag: Springer New York
Abstract
It has long been recognized by oncologists and families of cancer patients that metastatic cancers are considerably different from their primary cancer counterparts. Their growth, for example, tends to be more explosive (Weiss et al. 1986; Blomqvist et al. 1993; Oda et al. 2001; Klein 2009), easier to spread and more difficult to stop; yet, very little is understood about the differences between the biology of metastatic cancer and that of primary cancer. Current research efforts have mostly focused on understanding the mechanisms of metastatic processes by addressing questions like the following:
What triggers cancer cells to spread
?
How do they circumvent the body's defenses
? and
How does one prevent metastasis
? In comparison, relatively little can be found in the literature about the unique biology of metastatic cancer. For example, the molecular and genetic mechanisms responsible for driving the more explosive growth of metastatic cancers are virtually unknown. This may have reflected a belief widely held by cancer researchers that metastatic cancer is a terminal illness and hence not much can be done to stop its progression once a cancer has metastasized, which may have influenced the priorities in studying the underlying biology of metastasis.