05.07.2019 | Materials for life sciences | Ausgabe 19/2019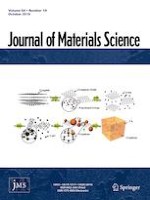 Cancer cell membrane as gate keeper of mesoporous silica nanoparticles and photothermal-triggered membrane fusion to release the encapsulated anticancer drug
Zeitschrift:
Autoren:

Yi Ding, Yingmei Zhu, Shaohua Wei, Jiahong Zhou, Jian Shen
Wichtige Hinweise
Yi Ding and Yingmei Zhu contributed equally to this work.
Publisher's Note
Springer Nature remains neutral with regard to jurisdictional claims in published maps and institutional affiliations.
Abstract
The cancer cell membrane (CCM) is widely used for nanomedicine encapsulation to improve their tumor-targeting ability. However, few researches are focused on drug release process and mechanism of these composite. Cell membrane fusion (two separate lipid membranes merge into a single continuous bilayer), one of the most fundamental processes in biology could be promoted by heating. Thus, in this manuscript, CCM was exploited as the gate keeper and tumor-targeting moiety of anticancer drug-loaded mesoporous silica nanoparticles (MSN). In addition, the drug release process and mechanism based on cell membrane fusion were studied. The loaded drugs included indocyanine green (ICG), a FDA-approved near-infrared photothermal agent for clinical applications, and doxorubicin (DOX), a chemotherapy drug. By coating CCM on drug-loaded MSN, the keeper could prevent unexpected drug leaking during the circulation and provide tumor targeting based on its specific recognition function. After arriving tumor tissue post-tail vein injection, the tumor position is irradiated by 808 nm light to trigger light–thermal conversion process of ICG to heat the composite (DOX-ICG@MSN@CCM) and promote cell membrane fusion between the encapsulated CCM and targeted tumor cell membrane. Such process can enhance the uptake efficacy of DOX-ICG@MSN@CCM to tumor cells. Furthermore, ICG could provide a synergistic photothermal therapy activity with DOX.