2011 | OriginalPaper | Buchkapitel
4. Capacitors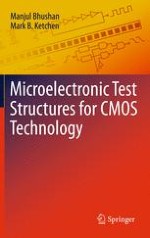 Erstes Kapitel lesen
Autoren: Manjul Bhushan, Mark B. Ketchen
Verlag: Springer New York
Abstract
Signal propagation delays and signal rise and fall times in CMOS circuits are related to the
RC
time constants of the circuit elements in the path. Determination of capacitance
C
of MOSFETs and parasitic elements is therefore an essential part of building models for circuit simulations. MOSFET capacitance components must be characterized as a function of voltage to capture their behavior during a transient switching cycle. Capacitance measurements are utilized to determine MOSFET gate linewidths and gate oxide thickness. Capacitances of conducting layers with dielectric isolation give a measure of inter-level dielectric properties such as effective dielectric constant and film geometries such as layer thicknesses and linewidths.
C–V
characteristics of diodes are used for profiling carrier densities in silicon devices. Carrier lifetime measurement in silicon utilizes
C–V
and
C–time
characteristics of MOS capacitors.