11.09.2018 | REGIONAL TOPICS FROM LATIN AMERICA | Ausgabe 4/2019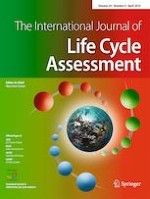 Carbon and water footprints of Brazilian mango produced in the semiarid region
Zeitschrift:
Autoren:

Jade Müller Carneiro, Amanda Ferreira Dias, Viviane da Silva Barros, Vanderlise Giongo, Marília Ieda da Silveira Folegatti Matsuura, Maria Cléa Brito de Figueirêdo
Wichtige Hinweise
Responsible editor: Matthias Finkbeiner
Electronic supplementary material
Abstract
Purpose
Awareness regarding carbon and water footprint has gained visibility, encouraging actions towards compliance with the main available standards by fruit producers. This study presents the carbon and water footprint of packed mango produced in Vale do São Francisco, the main irrigated valley in Brazil. It provides an approach to identify the critical processes and opportunities for improvements in the conventional crop system that may support producers in the task of developing future site-specific assessments.
Methods
This assessment followed ISO 14046 and ISO 14067 for water and carbon footprints, respectively, as well as specific requirements of product category rule (PCR) 013 for fruits and nuts and Publicly Available Specification (PAS) 2051-1 for horticulture products. Primary data was collected for nursery (seedling), land use change, crop production, and packaging, considering five exported mango varieties: Palmer, Keitt, Kent, Haden, and Tommy Atkins. The carbon footprint assessment was based on the impact category climate change, while water footprint encompassed the following categories: water scarcity, marine and freshwater eutrophication, human toxicity (carcinogenic and non-carcinogenic), and freshwater ecotoxicity. The footprint analysis was performed for 1 kg of packed mango.
Results and discussion
The three main processes responsible for both footprints were related to crop production: fertilizer and electricity production as well as mango cropping. Moving from Caatinga vegetation to mango orchards increased carbon storage but was not enough to offset the impact on climate change. For water footprint, it was observed that the total volume of applied irrigation water was already below technical requirements and cannot be reduced, the same occurring for nitrogen fertilization. Scenario analysis showed that the use of alternative electricity sources and the reuse of wastewater brought no major improvement in results. Furthermore, the choice of local or country level characterization factors for water scarcity changed results significantly. Discussions are made regarding (i) the relevance of mango footprints when compared to other irrigated fruits, (ii) possibilities for improving mango footprint performance, (iii) the need for updating product category rules for fruits, and (iv) the quality of provided inventories and results.
Conclusions
The comparison of mango footprints with previous studies of irrigated fruits showed that mango performance is similar or better than many irrigated fruits, cultivated all over the world. Moreover, footprints may be further reduced if mango orchards are established in previously deforested land or areas occupied with annual crops and if improvements are made in the irrigation and fertilization practices at each mango production stage.