06.10.2016 | Original Paper | Ausgabe 6/2017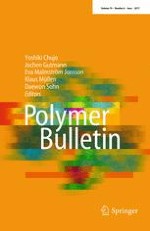 Carbon dioxide-permselective polymer membranes composed of poly(vinyl ether)-based, ABA-type triblock copolymers with pendant oxyethylene chains
Zeitschrift:
Autoren:

Toshikazu Sakaguchi, Ryoki Okunaga, Satoshi Irie, Michio Urushisaki, Tamotsu Hashimoto
Abstract
The ABA-type triblock copolymers consisting of poly(2-adamantyl vinyl ether) [poly(2-AdVE)] as outer hard segments and poly(vinyl ether) having polar oxyethylene side chains [poly(MOEO
1
VE), poly(MOEO
2
VE), poly(MOEO
3
VE), or poly(MOEO
4
VE)] as inner soft segments were synthesized by sequential living cationic polymerization. The triblock copolymer compositions were similar to those of the feed ratios, and [2-AdVE]/[MOEO
n
VE]/[2-AdVE] ratios of copolymers were all approximately 150/700/150. The obtained triblock copolymers formed microphase-separated structure, and the free-standing membranes were obtained by solution-casting. The CO
2
permeability coefficient (
P
CO
2
) of triblock copolymer, poly(2-AdVE)-
b
-poly(MOEO
1
VE)-
b
-poly(2-AdVE), was 113 barrer, which is much larger than that of poly(AdVE) [
P
CO
2
= 25.2 barrer]. The permeability increased with increasing the content of the oxyethylene units in the triblock copolymers because the flexibility of the oxyethylene chains enhances gas diffusion in the polymer matrix. The triblock copolymers exhibited high CO
2
permselectivity due to the good affinity of oxyethylene units to CO
2
, and their
P
CO
2
/
P
N
2
were as large as 43.2–57.4.