01.01.2015 | CARBON FOOTPRINTING | Ausgabe 1/2015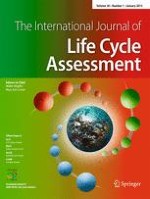 Carbon footprint of milk production in Brazil: a comparative case study
Zeitschrift:
Autoren:

Cristiane Maria de Léis, Edivan Cherubini, Clandio Favarini Ruviaro, Vamilson Prudêncio da Silva, Vinícius do Nascimento Lampert, Airton Spies, Sebastião Roberto Soares
Wichtige Hinweise
Responsible editor: Nydia Suppen-Reynaga
Abstract
Purpose
Livestock production is a recognized source of environmental impact, and this sector indirectly involves approximately 5 million people in Brazil. Livestock production includes nearly 1.5 million milk producers that use several different production systems. We chose the southern region of Brazil to evaluate the carbon footprint (CF) per 1 kg of energy-corrected milk (ECM) at the farm gate for different dairy production systems with the use of a good level of technology.
Methods
The dairy production systems were confined feedlot system, semi-confined feedlot system (including some grazing), and pasture-based grazing system. A sensitivity analysis of the dry matter intake (DMI) in each farming system and an uncertainty analysis based on a Monte Carlo (MC) simulation were performed to complement the discussion. The standards ISO 14040: 2006 and ISO 14044: 2006 were used for the comparative life cycle assessment (LCA) focused on the CF. The LCA software tool SimaPro 7.3.3 was used. Sensitivity analyses were conducted on input data for total digestible nutrients (TDN) and crude protein (CP) based on values from the literature.
Results and discussion
The comparative LCA showed that the confined feedlot system had a lower CF than the other systems studied. Total greenhouse gas emissions were 0.535 kg CO2e kg ECM−1 for the confined feedlot system, 0.778 kg CO2e kg ECM−1 for the semi-confined feedlot system, and 0.738 kg CO2e kg ECM−1 for the pasture-based system without considering the impact from direct land use change (dLUC). When considering these emissions, the CFs for grain and cottonseed production showed CF increases of 45.0, 36.9, and 37.3 % for the confined feedlot, semi-confined feedlot, and pasture-based systems, respectively. The results from the MC simulations showed low uncertainty through variations in TDN and CP. The coefficient of variation was 1.1 % for the confined feedlot, 0.7 % for the semi-confined feedlot, and 1.0 % for the pasture systems.
Conclusions
The uncertainties were due mainly to variations in N2O emissions from manure for the three systems. The CF in Brazilian systems was lower than almost all the results found in the literature, even when impacts from the dLUC were considered. The lowest CF in this case study was due mainly to the emission factor used for enteric fermentation.